Bond Description
This bond provides protection against financial liability for the loss of a customer's money, securities, and personal property caused by dishonest acts of the employees of the insured while on the customer's premises upon conviction.

How to Apply for Bond
Step 1

Complete the Business Services Bond App. online and submit, or print, email or fax (713-622-1494) the application to us.




Step 2

Upon receiving the application we will select the bonding company that fits your situation and and forward the information to the surety underwriter. This generally take less than 24 hours depending on underwriter workload and time of day received.




Step 3

If approved will need the signed application, disclosure statement, and payment of premiums and fees before an executed bond can be released.

Open and Complete Form Here
Click on the icon below to access the Business Services Bond form: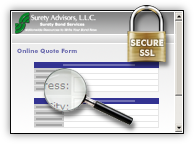 Form Name:   
Form Type:   
Security:   
Business Services Bond Request
Online Electronic Form
Yes. GeoTrust SSL Certificate